Charlene - Automated Data Processor¶
REQUIRED:
Caris 10.3 or greater, licensed and configured
Caris support files installed and configured
POSPac 8.1 or greater, licensed and configured
Charlene is an automated night processing and data transfer tool developed by NOAA's Office of Coast Survey in early 2017. Charlene allows the user to:
Perform verification of raw data
Build deliverable directory structure
Transfer and verify raw data
Process MBES and SSS data with Caris Batch Processor
Generate SBETs with POSPac Batch
Use NOAA tools like AutoQC, QCTools and TCARI
with only a few mouse clicks!
Brief Overview¶
Charlene is a HSTB developed software utility that automates hydrographic 'night processing'. Night processing includes all of those tasks in between raw data collection and a final daily product that occur each night on our hydrographic vessels. Our goal with Charlene is to make night processing something that requires little to no user interaction.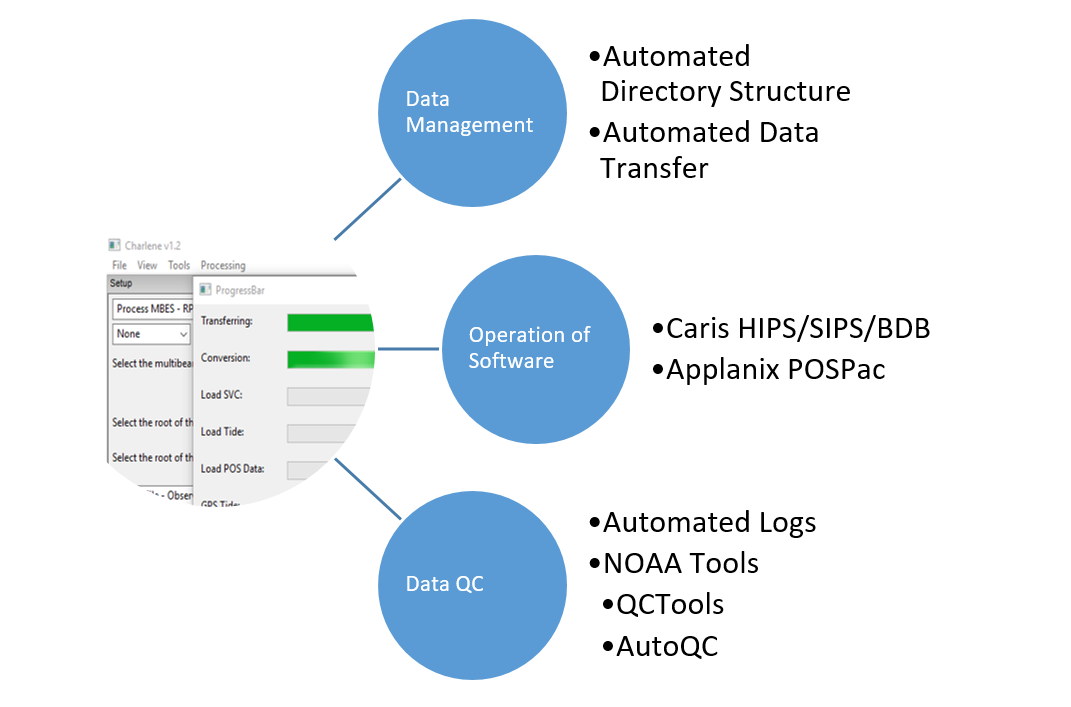 While we have long been able to read and write certain proprietary data formats, the latest Caris and Applanix versions (10.2 and 8.1 respectively) open machine access to the processes in these packages; we now have the ability to run these software packages outside of the graphical interface. Charlene leverages this to become a one-stop shop for night processing. Just plug in your data drive, sit back, and wait for your processed data to arrive. Key to all this is that Charlene works across software platforms; it can transfer your raw data to the appropriate submission folders, process your SBET, convert survey lines into Caris, apply sound velocity profiles, water levels, and SBETs, run in-house QC reports, and generate logs.
How can we do this?¶
Charlene relies on individual modules to process. These are all callable within Python, allowing for robust and intelligent operation.
Indices and tables¶
Resources
Online Resources:
Contact
If you find errors in the documentation or want to contribute, you are encouraged to email the following personnel emails @NOAA.GOV
barry.gallagher
jack.riley
chen.zhang
eric.younkin